Adresse: Ukna

In a mountain outside Ukna you will find Stenebo large mine, a fascinating and exciting destination! Remember to pack comfortable clothing and good waterproof shoes and flashlight before your trip.
Stenebo large mine was originally called Nämåsa grufva. The mine's history dates back to the mid-1600s. The mine is situated on a mountain consisting of flint with transitions to gray and black flint. The ore is described as poor, but the availability great. The mine is 90 m deep.

Through the centuries business went up and down the iron mining but on the night June 17, 1875 there was a rock fall after the mine had been pushed hard for a few years and the safety set aside. Fortunately, no miners were killed, but the collapse was the end of the mine. After the mine collapsed it was used for things like a dead-house and tipping for everything. Today, the mine is a rather well-visited attraction.

You can walk upright in the mine, but the visit is not to be recommended for claustrophobes.
Show more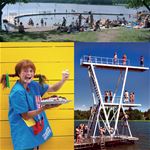 Campingplätze
Entfernung: 21,1 km
Der Campingplatz in der Nähe von Astrid Lindgrens Welt - Wenn Sie am Meer wohnen möchten. Gepflegter Familiencampingplatz mit einzigartigem kinderfreundlichen Lagunenstrand. Neue verbesserte Wohnmobil-Stellplätze. Schöne Rezeption, Restaurant und Café. WLAN-Internet auf dem gesamten Campingplatz mit Telia Hotspot.
Appartments und Zimmer
Entfernung: 7,4 km
Stay for a week or a few days in rural 20th century style. Here you live close to nature in a living farmhouse. Explore the countryside or simply let peace take root.
Bed and Breakfast
Entfernung: 15,5 km
Björkhyddan ist ein gemütliches kleines B & B. Hier freuen sich die Wirtsleute Fred und Maren auf Ihren Besuch. Kinder sind herzlich willkommen und auf Anfrage kann man auch Haustiere mitbringen.