Up in the north of Hallingeberg lies an old water saw. At the brook between Södersjön and Hunsalasjön which creates a small waterfall. It is no big and powerful waterfall that has been the driving force for decades but big enough to drive the big water wheel around and generate energy through.
The water wheel on the creek between Sörsjön and Hunsalasjön had been spinning around and produced energy for many years before the newer energy forms emerged and were taken into use. The water wheel was the driving force until about 1948 when it broke down, and thus the water powered saw at Oxebo ended.
Show more
Campingplätze
Entfernung: 19,9 km
Willkommen bei Långsjön Stugor & Camping in Småland. Ein naturschöner Camping mit grosszügigen Parzellen, mit kleinem Strand, gut zum Fischen. Unter Schweizerleitung.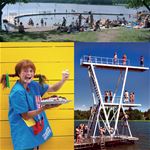 Campingplätze
Entfernung: 8,1 km
Der Campingplatz in der Nähe von Astrid Lindgrens Welt - Wenn Sie am Meer wohnen möchten. Gepflegter Familiencampingplatz mit einzigartigem kinderfreundlichen Lagunenstrand. Neue verbesserte Wohnmobil-Stellplätze. Schöne Rezeption, Restaurant und Café. WLAN-Internet auf dem gesamten Campingplatz mit Telia Hotspot.
Archipelago accommodation
Entfernung: 27,8 km
Gemütliche Schärengartenunterkünfte in hellen und gepflegten Räumen in der Herberge von Hasselö vor Västervik und Loftahammar, nur einige hundert Meter vom Meer und Sandstrand entfernt. Hasselö ist die belebteste Insel mit Aktivitäten und Erlebnissen für die ganze Familie das ganze Jahr über.