Stenebo mine in Ukna
Address: Ukna
Show map
Address: Ukna

In a mountain outside Ukna you will find Stenebo large mine, a fascinating and exciting destination! Remember to pack comfortable clothing and good waterproof shoes and flashlight before your trip.
Stenebo large mine was originally called Nämåsa grufva. The mine's history dates back to the mid-1600s. The mine is situated on a mountain consisting of flint with transitions to gray and black flint. The ore is described as poor, but the availability great. The mine is 90 m deep.

Through the centuries business went up and down the iron mining but on the night June 17, 1875 there was a rock fall after the mine had been pushed hard for a few years and the safety set aside. Fortunately, no miners were killed, but the collapse was the end of the mine. After the mine collapsed it was used for things like a dead-house and tipping for everything. Today, the mine is a rather well-visited attraction.

You can walk upright in the mine, but the visit is not to be recommended for claustrophobes.
Show more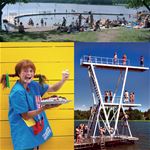 Caravan and camping
Distance: 21.1 km
KustCamp Gamleby // Hammarsbadet / Campsite The campsite closest to Astrid Lindgren's World. When you want to stay by the sea. Well-maintained family campsite with a unique, child-friendly, lagoon swimming area. New enhanced mobile home sites. Friendly front desk reception and restaurant. Wireless Internet throughout the entire campsite with Telia hotspot.
Archipelago accommodation
Distance: 35.5 km
Hasselö Hostel offers comfortable accommodation, with bright and well-furbished rooms, only a few hundred meters from the water, on the family-friendly and vibrant archipelago island of Hasselö.