Spårö båk (Spårö beacon)
Address: Västervik
Show map
Address: Västervik

Spårö båk is located on the island of Spårö in Tjusts archipelago. Spårö båk was designed by Carl Fredrik Adelcrantz. Inspired by a lighthouse Carl seen in the Neapel area, he designed a square-level building under a curved top roof, and from there the beacon was built on Spårö.
Spårö båk was built in 1776-1777 and has been considered by many, including the Evert Taube, to be one of the most beautiful seamark of the East Coast. The beacon is 25 meters high and has 2 meters thick walls in the bottom. It stands on top of the 34 meter high Spårö mountain.

The beacon were built to facilitate the approach to Västervik by boat. Through gaps on the east side of the roof, at night and bad weather, they put out iron baskets with burning tarved wood. In this way, the Spårö beacon was used until 1884. In 1925 the lightning struck down in the beacon and ignited the shingle roof, which was then replaced by a plate roof. Today, Spårö is a popular excursion point.
Show more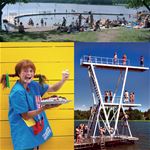 Caravan and camping
Distance: 26.6 km
KustCamp Gamleby // Hammarsbadet / Campsite The campsite closest to Astrid Lindgren's World. When you want to stay by the sea. Well-maintained family campsite with a unique, child-friendly, lagoon swimming area. New enhanced mobile home sites. Friendly front desk reception and restaurant. Wireless Internet throughout the entire campsite with Telia hotspot.
Archipelago accommodation
Distance: 12.1 km
Hasselö Hostel offers comfortable accommodation, with bright and well-furbished rooms, only a few hundred meters from the water, on the family-friendly and vibrant archipelago island of Hasselö.
Caravan and camping
Distance: 26 km
Welcome to Långsjön Stugor & Camping in Småland. A scenic campsite with a small beach and nice fishing