Spårö båk (Spårö beacon)
Address: Västervik
Show map
Address: Västervik

Spårö båk is located on the island of Spårö in Tjusts archipelago. Spårö båk was designed by Carl Fredrik Adelcrantz. Inspired by a lighthouse Carl seen in the Neapel area, he designed a square-level building under a curved top roof, and from there the beacon was built on Spårö.
Spårö båk was built in 1776-1777 and has been considered by many, including the Evert Taube, to be one of the most beautiful seamark of the East Coast. The beacon is 25 meters high and has 2 meters thick walls in the bottom. It stands on top of the 34 meter high Spårö mountain.

The beacon were built to facilitate the approach to Västervik by boat. Through gaps on the east side of the roof, at night and bad weather, they put out iron baskets with burning tarved wood. In this way, the Spårö beacon was used until 1884. In 1925 the lightning struck down in the beacon and ignited the shingle roof, which was then replaced by a plate roof. Today, Spårö is a popular excursion point.
Show more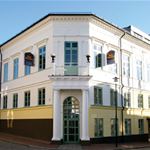 Hotels and guesthouses
Distance: 7.1 km
The Best Western Västerviks Stadshotell is the largest provider of accommodation, food and drink, conference facilities and entertainment in the northern part of Kalmar County. The hotel is located right in the centre of Västervik, a stone's throw from the sea.
Hotels and guesthouses
Distance: 7.1 km
Gränsö Slott hotel and guesthouse is a four-star, superior-classed hotel, spa, conference and wedding center located in Västervik with 47 beautiful rooms and suites directly adjacent to the sea. Open 365 days a year.
Archipelago accommodation
Distance: 12.1 km
Hasselö Hostel offers comfortable accommodation, with bright and well-furbished rooms, only a few hundred meters from the water, on the family-friendly and vibrant archipelago island of Hasselö.